GM Barbosa wins the Hong Kong International
GM Barbosa wins the Hong Kong International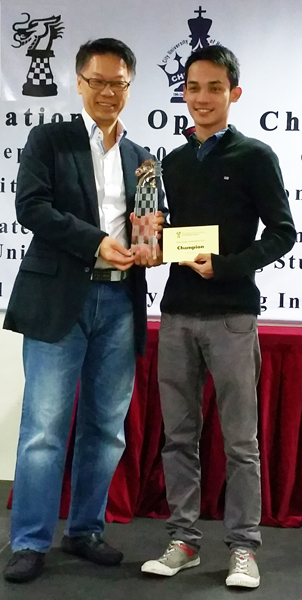 Our International Open has been a resounding success and ended with a well deserve victory to GM Oliver Barbosa from the Philippines. It was a fighting last round where all 3 leaders had chances with lesser opponents but GM Barbosa prevailed with a nice victory to take the Championship with 7½ pts from 9 rounds.
香港國際公開賽2015完滿結束,由菲律賓的特級大師 Oliver Basbosa 奪得冠軍。
The local best prize was won by our own CM Chan with 5½ pts.
本港最好棋手則由候補大師陳澤民奪得。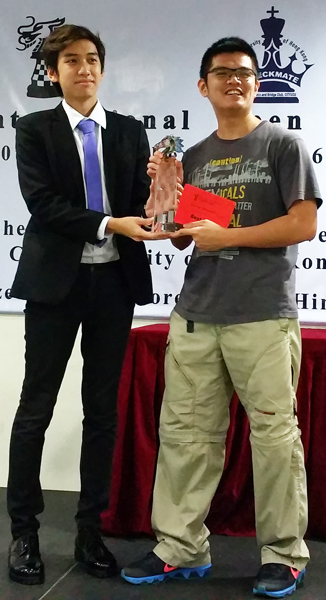 The venue provided by the City University of Hong Kong is very grand and spacious, befitting such a prestigious event and it was enjoyed by all who participated.
List of prizewinners:
| | |
| --- | --- |
| Champion | GM Oliver Barbosa |
| 1st Runner-Up | GM Zeng Chongsheng |
| 2nd Runner-Up | GM Gao Rui |
| 4th | FM Yu Kaifeng |
| 5th | GM Darwin Laylo |
| 6th | GM Jha Sriram |
Best HKG players:
| | |
| --- | --- |
| Best | CM Chan Chak Man |
| 2nd Best | Michael Deng |
| Best Lady | Crystal Deng |
| University | Jonathan Edwards |
| Under 18 | Luke Lau |
| Under 14 | Estella Song |